How we manage to gather the Future of Europe in Paris?
What is the next phase of European tech? Well, it should start with brilliant minds gathering around brilliant ideas. And this is what our yearly VC Bridge event is meant to be! This event, initiate by daphni 2 years ago, strengthens our different cultures and European entrepreneurial ecosystems.
Europe has historically been dubbed as "difficult to scale in" because of many smallish markets. That's not true anymore. If you know how to hack Europe, it's easy, attractive and super fast. It's about building bridges with the right folks.
On Tuesday 3rd of December 2019, we truly built bridges between key European ecosystems (Germany, France, United Kingdom, Spain and the Nordics) with our co-hosts e.ventures, Heartcore, Kibo Ventures, Lakestar, Notion and with the support of La French tech.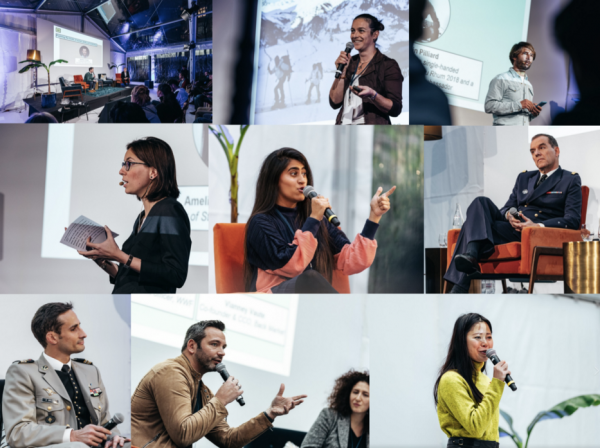 For this second Edition 2019 of the VC Bridge, we decided to get out of our comfort zone to bring dynamism, inspiration, originality & of course business to the table. And what an extraordinary afternoon with brilliant speakers holding meaningful and educational panels, tackling risk management and sustainability.
First, we were honored to be in the presence of the brilliant Minister of State for European Affairs, Amélie de Montchalin, inspiring us about how we can foster innovation in Europe.
One of the highlights was Kat Borlongan, Director of the French Tech Mission who reminded us about the goal of the government to make France a true Tech Nation, something she promotes through La French Tech.
This year's edition was about two very meaningful topics, which are at daphni's core : dealing with Risk & Resilience and Tech for Good!
We decided to onboard NGOs like WWF, represented by Marine d'Allancé, Corporate Engagement officer and Ashoka, represented by Arnaud Mourot, VP — Global Corporate Alliances and Changemaker Companies, to bring on and learn from their vision and goals on how we can make 'for good' great again. On top of this, we had the chance to have Vianney Vaute, co-founder of Back Market, the very first marketplace specializing in refurbished electric and electronic devices, that is an inspiring example that 'for good' can create ambitious & disruptive business.
We had also discussed about the future of diversity and inclusion in tech with Nikita Thakrar who leads Included.VC, an initiative to bring more diversity in the VC industry in order to build the next generation of VC (daphni is involved also), and Camille Morvan, the founder of Goshaba, a tool to unbias the process of recruitment in identifying psychology characterics through a gamified process.


The true source of inspiration came also from our outstanding Risk Takers:
– Barbara Belvisi, who foresees disruption years in advance, giving us some hints into how to use Space Tech for saving the Earth
– Matt Ellswoth, who's been through tough moments in his life that brings him to do stand-up comedy show for a while. "Life is not always funny, but telling jokes and smiling are often the best way to get through hard times".
– Amiral Loïc Finaz, Director of the School of War, Officier Erwin Bruder remind us that motivation is good but discipline is key.
– Marion Poitevin, the first woman incorporated in the French Elite Mountain Military Group demonstrating how you can overcome fears and truly take risk!.
– Romain Pilliard, ocean racer in the single-handed Transatlantic Race Route du Rhum 2018 and a circular economy ambassador — he was the skipper of the first Ultime Trimaran made from recycled materials only.
– Matthieu Tordeur, who just got into the Guinness World Records after reaching the South Pole without assistance and food supply.
– Ahir Shah, award winning British stand-up comedian who performed for us and for the second time in Paris. The first time was on the 13th of November 2015…
And all the great entrepreneurs picked to highlight the afternoon about their adventure as entrepreneurs and how they are all created tech for good.
Also, this event wouldn't have been as fantastic without our outstanding moderator Chris Rowe who kept the energy high throughout the whole afternoon. Last but not least, we were in an extraordinary place in the heart of Paris, called We Are, the first club in France gathering people from the creative sphere.
Now it's time for you to discover the 1:30′ of this magic day. Feel the inspiration and the good atmosphere here.
Already looking forward to the VC Bridge 2020!
Feel free to reach out to me if you want to be part of the next edition!
Aurélie