Leverage Our European DNA to Create World Leaders
At daphni, we strongly believe in European strength and we are looking for startups that take advantage of the European DNA. This DNA is based on 3 pillars:
Yes, the US Is Huge And China Is Becoming a Monster…
Actually, both behemoths are largely playing on the same registers: Productivity, Empowerment, and Content.
However, the opposition is becoming more and more obvious as each American giant now has a Chinese counterpart.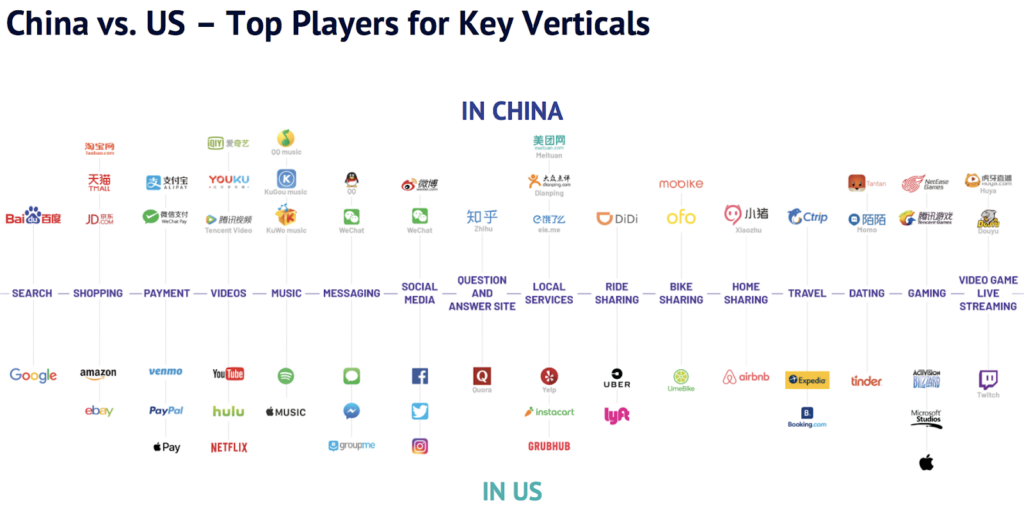 The fight between Amazon and Alibaba in India is a good example of the economic opposition which is coming in the next few years between the two countries. However, after years of American domination, China is now outreaching the mimetism. Via online selling, for instance, the huge integration of social network features as expressed by Pinduoduo has no equivalent of the same magnitude in the Western world.
… However, Europe has to take advantage of its key differentiators
Europe is characterized by nations with strong social pacts, especially Western and Northern Europe. This strong eagerness to live together is revealed by four key elements:
Great primary education
Amazing quality of the infrastructures (transport, electricity, phone, banking, insurance etc.)
High equality that drives sharing economy services


All these elements can explain why companies such as Ornikar, Open Classroom, Revolut, Transerwise, Payfit, Alan, Wefox, Fretlink, Geev, and Blablacar have very deep European roots.
Public social spending represents 21% of GDP on average in the OECD area, with 12 European countries at the top of the ranking. Social protection systems (old age, survivors, disability, health, family, unemployment, housing, etc.) play an important role in the well-being experienced in a country. This cultural aspect is expressed by different pillars:
A super developed healthcare system
Growing flexibility at work
Extended personal services for consumers


Companies such as Lifen, Doctolib, Babylon health, DNA Script, Kry, Comet, Kalo, Shine, Deliveroo, Pazzi, Glovo, Lunchr or Beendi are the legitimate successors of these traditions.
The period from 1492 to 1914 has experienced economic domination of Europe over the world. This period of economic prosperity has fostered art and inventiveness in Europe providing an edge in:
European luxury as the top 10 brands in the world are European
Deeptech with 32 of top 100 AI labs and research centers are European according to Nikkei.
Music and movies that are an important part of the culture, for instance Europe has won more than half of the Palmes d'or at the Cannes Film Festival.


In the last decade, great companies took advantage of this cultural advantage: Deepmind, Anotherbrain, Goshaba, Vestiaire collective, Meero, Spotify, Keakr …
Collective, Quality of Life, Inventive: here is the backbone of the European DNA, whereas the US and China are structured around Productivity, Empowerment and Entertainment. At daphni, particular attention will be given to projects based on these topics, simply because Europe, historically and industrially, is better equipped to grow world leaders around these specific pillars.