Sustainable fashion is da new black (2/2)
Solutions to tackle environmental challenges in the fashion industry.
Ladies and Gentlemen, this is a very comprehensive report on the various sustainable alternatives in fashion.
Little tip: If you are particularly interested in a subject, you can use the keyboard shortcut (⌘ + F) to search for a keyword!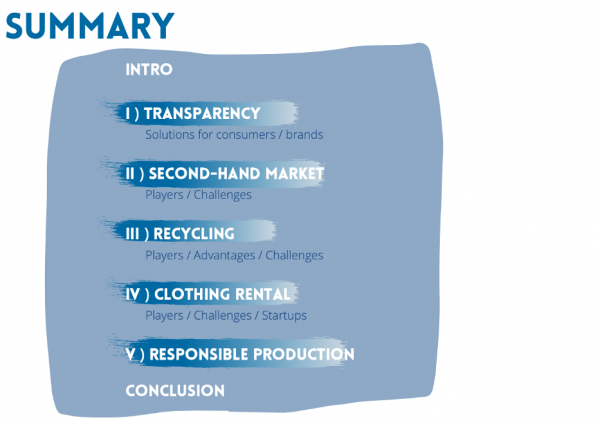 In response to the dramatic environmental consequences of the fashion industry and consumer insurgency, much-needed alternatives have been developed. Time for a Fashion Revolution !
The industry needs to be more respectful of the environment. It has no choice but to evolve and change its way of producing for several reasons. First of all, consumers are more and more sensitive to sustainable development and brands must therefore adapt to this new trend. Fashion figures have been declining in recent years and the need to be environmentally friendly is becoming urgent. In addition, regulations are becoming more restrictive in order to encourage eco-friendly initiatives. For instance, the European REACH regulation limits the use of chemical substances to protect both health of workers and the environment, or the "Circular Economy" bill aims to encourage recycling. This transition is also encouraged by a political will through the Fashion Pact or by Sweden's refusal to organize Fashion Week in 2019 for ecological reasons.
Thus, clothes brands are developing sustainable initiatives such as eco-responsible collections or the collect of used clothes to make people forget previous scandals. Ethical fashion is thus becoming more than just a trend, it is a movement born out of a growing need to respond to environmental challenges. Time for change…
In fact, in 2018, 18% of French people have reduced their clothing consumption for ecological reasons and a desire to be more responsible according to IFM.
The challenge is to reduce production and make it more sustainable. Different solutions are emerging such as
The second-hand market
Clothing rental
More responsible design methods
Clothing recycling
Traceability of the production chain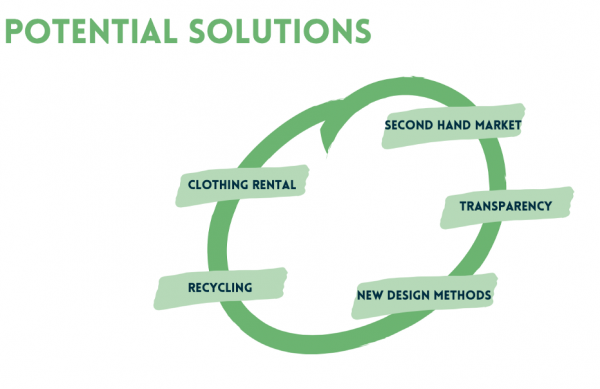 Many initiatives are implemented directly by the brands themselves. Indeed, according to the Mc Kinsey study and Les Echos études, the commitment of fashion actors is multiple and includes :
The use of ecological raw materials (linen, organic cotton)
Water-saving production without chemical treatment
Collections renewed less often with a limited number of items
Better quality clothing that will last longer.
Moreover, brand transparency is becoming a central element desired by consumers. Companies such as Good on you (USA) are helping to overcome this transparency problem.
Thus, more and more brands are taking the initiative to communicate themselves on their sourcing by highlighting their respect for the environment, such as the North circular or Asphalte. However, for the brands themselves, as the production chain is often vast and global, it is often complicated to know the origin of all raw materials used and how they have been treated. This is because the brands go through subcontractors and different suppliers, which means that there are a lot of middlemen.
Thus, access to information is complicated and it is difficult to follow the whole chain. The issue of traceability is therefore predominant in order to make brand practices evolved.
I ) Transparency: Challenges imposing a standard (standard, certification, accreditation, label)
A desire for garment traceability is emerging from consumers who want to know the origin of their clothes and have greater transparency from the brands. Blockchain technology has the potential to solve problem of traceability in the fashion industry. However, the blockchain remains subject to the human factor and fraud will therefore always be possible. Moreover, if the major brands do not respect the environment, it is not because they lack technology.
Technology alone is therefore not going to improve brand practices regarding environment. Some global initiatives set up by major players in the fashion industry such as the Sustainable Apparel Coalition are emerging such as High index which is an index developed to rate the sustainability performance of a product or brand and thus enable companies to improve their impact on the environment.
Emerging solutions for consumers to help them learn about brand sustainability. However, it is very difficult even for a specialised player to have access to the origin of the entire supply chain as this requires a face-to-face audit of each factory and crop.
Clear fashion (2018, France): Application of scoring to choose and favour eco-responsible brands and clothes, could make all this information easily accessible and concentrated for the consumer.
Faer (France): helps to find transparent and sustainable brands
Renoon: Finding sustainable options that best suit your style and contribute to positive change
WeDressFair (2018, France): Marketplace of clothing manufactured in accordance with an ethical charter with the objective of clothing that lasts a long time. It also provides access to information on each material used and their consequences…
Kymee: Marketplace dedicated to fashion 100% Made in France
Gather and See: Bringing the best womens sustainable and ethical fashion online
Shop wear well: making it easier to discover and buy ethical and sustainable clothing
Project just: a platform to find and buy ecological and ethical clothing
69b Shop: to make sure that your purchase has been produced in a socially and environmentally responsible manner
BrightLabel: a technology solution to meet this growing demand and promote transparency between brands and consumers. enabling customers to scan a code on a product and access in-depth product information.
Veo (UK, 2016): online retail destination for consumers who care about the origins of the products they purchase
Oritain (2008, UK): Businesses traceability solution
TrusTrace (Sweden, 2016, a levée fundraising of 1,5 million €): helps brands define a clear plan for establishing product-level traceability, platform
A transparent Company (UK, 2013): create greater transparency in fashion, offer innovative business solutions through creative consultancy services to companies who care about transparency in fashion
Source Map (USA, 2011) : supply chain mapping for business
Fair Makers (Startup incubated at Station F) : assesses the CSR of suppliers
Transparency-One (USA, 2015) : a complete platform helping global businesses meet consumer demand for safe, sustainable, and responsibly sourced products. Tracking supply chain
Bext360 (USA, 2016, fundraising 3,4 M) : a technology that streamline critical supply chains in emerging economies
Fabacus (UK, 2016, fundraising 1 M): Technology to see where goods are, what they cost and whether they are ethnically manufactured
Solutions for both brands and consumers
Provenance (2013, UK, raised 1.2 million), allows consumers to know the origin of products, and allows companies to communicate about their business in a transparent way and to certify the information)
All these traceability solutions represent a real way to transform the fashion industry quickly if the information becomes accessible to all. Moreover, it could help to remedy the lack of global certification of suppliers and brands. Indeed, there is for the moment a multitude of more or less qualitative labels, which only contributes to mislead consumers.
Nevertheless, brands are rather reluctant to set up this type of solution themselves because sourcing often takes a long time and costs a certain amount of money.
The market of traceability addressed directly to companies is therefore difficult to penetrate and it is complicated for emerging startups to impose themselves. On the other hand, concerning the solutions offered to consumers, an actor could very well become leader by proposing a reliable and simple solution for consumers.
II ) The second-hand market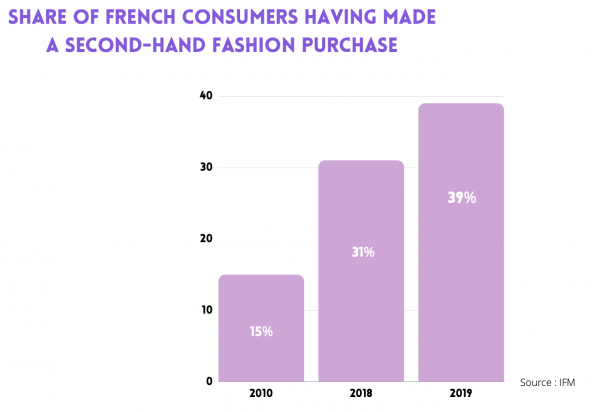 The second-hand market represents 21 billion euros in 2018 in the USA according to Les Echos Etudes. It has grown by 60% in the last 3 years and should reach 64 billion by 2028 according to CB insights' maket sizing tool while the fashion market has grown by only 6%. In France, the second-hand market will reach 1 billion in 2018 according to Les Echos Etude and is also experiencing significant growth while the clothing market is in decline.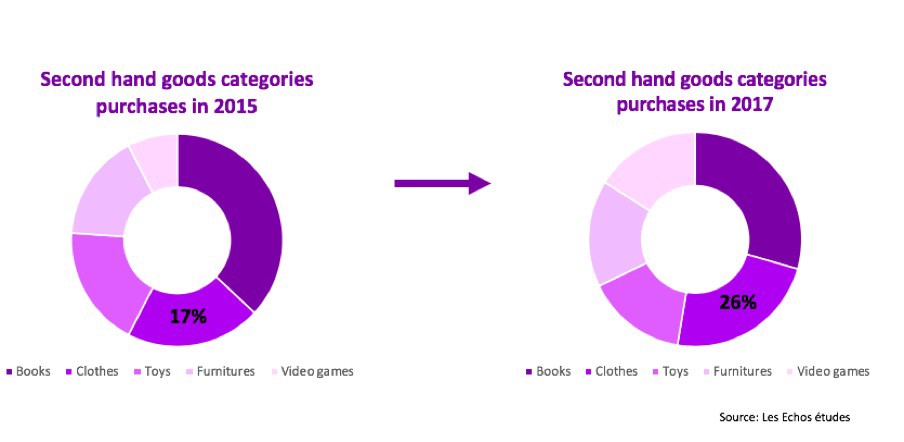 Indeed, the second-hand market is developing rapidly on the internet and clothing is an important and fast-growing second hand category.
The second-hand market is therefore growing and has significant success with companies such as Vinted or Vestiaire Collective in France. Indeed, the second-hand market is booming because it meets both the ecological expectations of consumers and also allows them to pay less for their clothes.
Thus, according to Les Echos Etudes, the proportion of French people having made use of second-hand clothing purchases rose from 10% in 2010 to 39% in 2019. Moreover, this market should continue its strong growth because the younger generations are increasingly sensitive to these environmental issues and are the main targets of the second-hand market.
Second-hand players then emerge and position themselves as leading marketplaces that are more or less involved in the control of the garments sold.
Leading European players specializing in second-hand clothing: Vinted (Lithuania, 2008, raised 260 million), Vide-dressing (acquired by Leboncoin), Percentil (Spain, 2012, raised 5 million), Micolet (2015, Spanish), United Wardrobe (Netherlands, 2014), Armadio Verde (Italy, 2015, raised 3.8 million)
USA players : Thredup (2009, Usa, total funding amount 305 millions) : women's and children's clothing marketplace, The Realreal (USA, 2011, public company) : marketplace for luxury goods
In addition, the brands themselves are also entering the second-hand market because they see it as a financial gain, an opportunity to build consumer loyalty, and a way to improve and control their image. Major brands such as Kiabi, HappyChic, Patagonia and H&M are turning to more responsible projects involving second-hand clothes. In this transition, brands are often helped by platforms such as Yerdle (2012, USA, supports brands in setting up second-hand resale), a market specialist.
This trend in second-hand clothing is therefore becoming more widespread and demand is very strong. However, the offers proposed by the brands do not yet compete with those of the platforms because they are less complete, and the return of used clothing is often very restrictive.
Challenges in the second-hand market: Authenticity and traceability
The second-hand market is already a mature market with well-established players that should continue to grow. Moreover, barriers to entry are low and new initiatives come from the brands themselves. It therefore seems unlikely that a startup will disrupt this market and replace the dominant marketplaces such as Vinted.
Reflaunt (2018, Singapore): circular designed technology which bridges first-hand and second-hand markets, enabling brands to give customers the option to re-sell, donate or recycle their wardrobes. This startup allows brands to control the second hand market.
III ) Recycling and reuse of textile waste, circular economy
In order to address the negative consequences of the fashion industry, recycling and upcycling are developing. Upcycling is the recycling of waste from the textile industry, such as used clothing. The circular economy could also allow the fashion industry to reduce costs by reusing used clothing rather than incinerating it. For the moment, there are various techniques for recycling clothes depending on the raw material used, but clothes are still very rarely recycled.
Nevertheless, more and more brands are trying to incorporate waste products from the textile industry into their clothing designs in order to give them a second life. Thus, the brand Andrea Crews has since 2002 created a collection of clothing made from used clothing parts, rags… More recently, in 2018 the designer Marine Serre launched a collection of clothing made from old silk scarves.This technique makes it possible to produce responsible clothing with relocated manufacturing since the raw materials are no longer imported. Moreover, it also allows brands to offer unique collections since each garment is produced using old garments or waste from the textile industry and is therefore not necessarily duplicable.
French companies : Gayaskin (sportswear via recycled materials), Les récupérables (2016, France, uses overproduction of clothing and household linens)
USA players: Alabama Chanin (production from recycled t-shirts), Eon (2015, USA, startup) : a platform allows tracing across the entire apparel value chain, facilitating re-trade and recycling. https://umanz.fr/a-la-une/16/06/2020/iot-for-good-eon-pepite-de-la-fashion-tech, Fabscrap (Usa, collect your clothes and recycle it), Evrnu (raised 9,1M, 2014), new technology that recycles cotton garment waste to create premium renewable textiles.
Precursors: Worn again technologies (2005, total funding amount 15,5 M, UK) a textile to textile recycling technology that can separate and recapture polyester and cotton from discarded), From Somewhere (Italie, 1997, clothes made with fabrics collected from cutting room floors and the fashion industry's trash cans)
New technologies : Ananas Anam (2013, UK, turns pineapple leaves into clothes), Orange Fiber (2012) clothes made from citrus waste, Pure Waste Textiles (Finland, 2013), Ecoalf (2012, Spain, products made of textile waste), Stuffstr (2014, UK, raised 3 million: buy back used clothing so it can go on to lead another happy and productive life and stay out of landfill, Re:newcell (2012, Sweden, total funding amount 10 M) a patented process for recycling cellulose-based textiles such as cotton and viscose
Very often transparent brands;
A process that promotes relocation,
Easier customization of the offer
The price, most of these brands are often quite expensive;
Difficulty in producing large quantities of similar parts;
Social biases that recycled clothes are not fashionable, not beautiful;
Changing the production line -> Garment collection can be complicated to set up


Startups are developing and seem to offer innovative and promising solutions for the future. In addition, many brands such as Stella McCartney or H&M are involved in projects to integrate the circular economy into the clothing manufacturing process, such as through the "Make fashion circular" initiative. However, these initiatives currently represent only a small part of the quantity of clothing sold by these brands and are only implemented on a single collection.
The transition to recycling and the circular economy is a solution to reduce the fashion industry's impact on the environment. The market is still in its beginning and not yet mature. However, it is very likely that the circular economy will develop and take hold in the fashion industry. Therefore, start-ups with new recycling techniques or companies allow to coordinate the recycling of clothing could emerge in the next few years.
Circular.fashion (2017, Allemagne) : a digital platform enabling garments to be designed for circularity from the very beginning. With a sleek and smart traceability solution the platform enables a transparent flow of information between material suppliers, brands, customers and recyclers to collaboratively realize a circular economy for fashion and textiles.
Another solution to make the fashion industry more environmentally friendly is clothing rental. Indeed, several types of rentals are developing:
The occasional rental of luxury clothing
Renting between private individuals
Rental by brands, often via monthly subscription in order to have a choice of clothes and to be able to renew them frequently.
Global players : Rent the Runway (unicorn, 2009, USA): haute couture and everyday clothing rental, StyleTheory (Singapore, 2016, total funding amount 15 M): Online subscription-based rental platform for designer clothing, Armoire (USA, 2016, raised 3 million) a clothing rental service, enabling customers to borrow contemporary women's clothing and swap anytime, Style lend (USA, 2014, total funding amount 1,5 millions) a fashion rental marketplace
In France, the Habibliothèque site attempted to conquer the clothing rental market in 2014, however, being unprofitable, it closed in 2018.
In addition, Bocage, a shoe brand belonging to the Eram Group, took the initiative of renting pairs of shoes via a subscription of around 30 euros per month and then reconditioning the shoes once worn in order to sell them at a lower price.
Challenges in the clothing rental market:
Logistics
Having a stock (expensive)
Brand image to be preserved
Les apprêtés (France, Eco-responsible clothing and accessories rental box)
RE-NT (Allemagne, 2018): a circular, white-label rental service and online platform, clothing as a service
Cocoon Club : (2019, UK) handbag rental subscription club that gives its members access to fashionable handbags
Gibbon : (2018, Netherlands), a rental platform to connect excess inventory from brands and retailers to travelers to enable a luggage-less travel
Louage (2017, France) : clothing and travel accessories rental service
Le Closet (2014, France) : access to an unlimited and ultra-trendy walk-in wardrobe in the form of a box at home
Mud jeans (2012, Netherlands) : manufactures and offers jeans on lease for a year and recycle it into new pair also sells it on an e-commerce platform.
Dresswing (2015, France)
Dressing Avenue (2016, France): clothing rental platform
Beaurow (2017, France): showroom of clothing rental
Chic by choice (2014, France) clothing rental platform
Couture Market (2017, France)
The clothing rental market in France and Europe remains a niche market, most consumers do not use it and no major player has managed to emerge yet. This trend in clothing rental is more in vogue in the USA with big players such as Rent the Runway. It is likely that this trend will spread to Europe, even though many consumers like to own what they wear and therefore this implies a change in mentality. Indeed, the subscription movement is strong in all sectors and fashion should not escape it. Thus, it is conceivable that a startup offering responsible clothing rental with a wide choice could emerge and dominate the European market, as Rent the Runway does in the USA.
V ) More responsible production methods
Apart from the solutions represented by the rental market, the second-hand market or recycling, there are solutions that offer similar clothing to what is offered today by revolutionizing production methods in order to be more responsible.Thus, new brands are being created to develop an alternative and more ecological fashion. These brands claim transparency on their production which is relocated and environmentally friendly.
Brands : Veja, 1083, Jules&Jenn, Le chemiseur
Many brands are being created that are more environmentally friendly, but despite the success of a few like Veja, for the most part it is difficult for them to establish themselves in the market and survive against big players already present in the fashion industry. The ecological aspect is not enough to differentiate them.
Moreover, a large majority of the brands already established also wish to take the turn towards sustainable fashion. Thus, different solutions are emerging such as suppliers using new techniques to produce in an ecological way, recycling solutions, marketplaces to source sustainable raw materials or the system of pre-orders to avoid overproduction…
Startups emerge to revolutionize the production techniques of brands already well established on the market.
The main eco-responsible solutions are:
Eco-responsible sourcing : finding suppliers of raw materials that take the environmental aspect into account
Common Objective (MySource) (2015, UK, raised 900K): An intelligent online business network, matches fashion professionals to the connections and information they need to build successful, sustainable businesses.
Sundar (Usa, total funding amount: 1,4 millions, 2014): digital supply chain, platform connects manufactures and suppliers of textiles


The circular economy:
Reverse Resources: (Estonia, 2014) platform that enables fashion brands and garment manufacturers to address pre-consumer waste for industrial upcycling.
Excess materials exchange: (2017, Netherlands) marketplace matches materials with their highest value reuse option
reGAIN (Netherlands, 1997) : App where you give your unwanted clothes to charity and get exclusive discount coupons (it resells clothes that are still in good condition and recycles those that are no longer usable)
saveyourwardrobe (2017,UK) : AI to make fashion more digital and sustainable by helping people manage their wardrobe effortlessly
MonoChain (2018, UK): platform empowering Brands & retailers to adopt a sustainable circular economy-driven practice
Crushon : platform that democratizes the purchase of vintage clothing by connecting thrift stores and designers.


Pre-order or bespoke production : allows to reduce the quantity produced and reduce unused garments
PreSize: 3D bodyscanning technology that uses any smartphone's camera input to find the best fit to the user's individual body


More resource-efficient production techniques — Automated manufacturing : Automation of the production chain in the textile industry could help to meet several challenges. First of all, it would make it possible to relocate production closer to the points of sale and thus avoid part of the transport. In addition, automating production would reduce pollution by reducing raw material waste.
Unmade (2014, UK, total funding amount : 12 million) ecommerce platform to create a unique item, using 3D printers for clothes)
Sewbot (Softwear Automation): a weaving robot that reduces carbon emissions by 10%.
Unspun: (2015, US, raised 5 million): 3D scanning and fit algorithms to generate digital consumer sizing
TamiCare (2001, UK) : R&D innovation and engineering company specializing in the field of textile and nonwoven materials (Cosyflex a 3D printing process for making textile products)
Heisel (USA): 3D printing for fashion
3D Tex (France): 3D printer of clothes


Supervision to avoid errors:
Smartex : combination of IoT sensors and AI software for the real-time inspection and detection of defects in fabric production


Production from biomaterials: biotechnology is the use of modified organisms to create new materials.
AlgiKnit (USA, 2017, total funding amount: 2,2 millions): a biomaterials company integrating science and design into textile production, algae production
Bolt Threads (2009, USA, total funding amount: 213 millions) spiderweb-inspired bioengineering to transform silk proteins into fibres
The challenges of fashion have been identified by the fashion's actors concerning its environmental impact and many solutions are therefore trying to solve the issues.
Moreover, the covid crisis has particularly affected this industry and the globalized production chain has been very disrupted. This event is therefore likely to accelerate the relocation that was already underway and necessary from an ecological point of view and to promote the dynamic in favour of responsible brands.
In addition, many startups are emerging, each trying to respond to a problem posed by the fashion industry by influencing brands or consumers. However, the problem lies in the fact that there is currently no label that can be considered as a reference in terms of criteria and evaluation of brands and that the solutions proposed are often partial and only respond to one problem.
Nevertheless, in view of the very strong demand for change on the part of consumers and the image of the brands that is being challenged, it seems quite likely that players will find solutions to make fashion more sustainable in an easy way and thus succeed in establishing their selves on the market.
With Love,
The Daphni Team❤️
A HUGE thanks to Olivia Gangneux & Alma Rathle for their work on this report!