3 days, 250km, 15h on a saddle, circa 30L of sweating… Folks, this was the Tech Bikers edition #2, co-organized with Korelya and sponsored by Comet!
On the program, a Cognac to Bordeaux ride, cycling through pine trees, vineyards and along the seaside.
An exciting, unforgettable and crazy sport challenge for the 40 participants, as well as an opportunity for our group to fundraise for a fair cause: Room to read. This NGO promotes the literacy of children in areas where access to education is difficult. By working with local communities and governments, Room to Read helps primary school children develop their reading skills. We're all really thrilled and proud to have been able to raise 16K that will help this charity for its projects ahead!

All the riders at Lacanau
Interested? Discover the program:
DAY 1
First things first, when coming to Cognac, how could we not program a tasting? A big thanks to the Maison Camus for welcoming us for a tour and degustation, it helped relax everyone before the big departure 😉 And folks, believe us, the weather forecast was not good… We were lucky enough to ride the whole first day with 60km/h head wind and some rain to pimp the almost 90km ride! For this reason, this first day was the most difficult of our trip. But the funny thing is, it became the best memory! If we were just a bunch of people working in tech in the morning, we were definitely a welded team in the evening!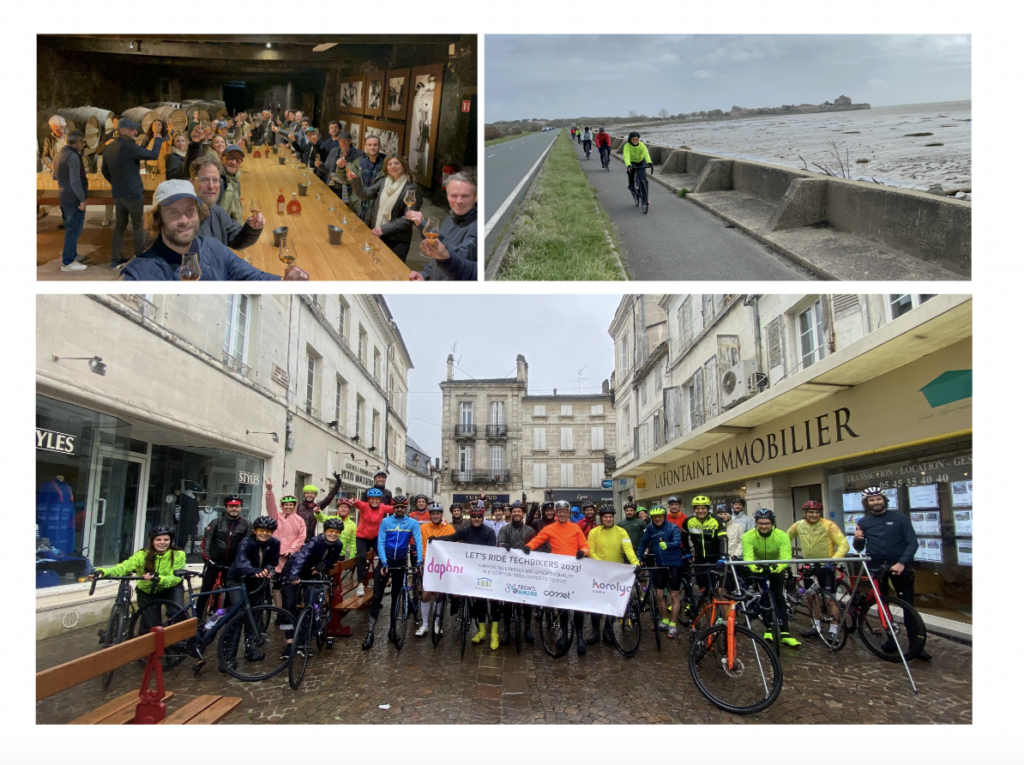 All the riders enjoying some Cognac the day before the departure – Some riders facing headwind – The departure
DAY 2
The next day, lots of smiles on everyone's faces as we see the blue sky and low wind! Waking up in Royan facing the ocean gave a lot of energy and motivation to cycle until Lacanau. The sun made us more excited to get back on the road, after taking the ferry from Royan to Soulac. Here we go again, riding along the west coast for about 85 km. After a deserved lunch next to Hourtin lake and 20km more, this is it, we're at Lacanau. Some enjoyed the hotel's spa, and then everyone gathered for drinks in the sun. (For the bravest, we even went to a dancing bar – you can't change a winning team!)
Taking the ferry from Royan to Soulac – Riding along the seaside
DAY 3
Waking up this last day was half joy, half sadness. Joy because we were 60km away from the final line (a great news for the newbies), sadness because it's almost finished and it's so much fun! Anyway, we are heading to Bordeaux, with vineyards all along the way. The goal: reaching the beautiful Chateau d'Agassac, before 1pm to enjoy a sunny lunch followed by a wine tour (told you, you don't change a winning team ;)). Top program to end the trip. Each of the riders is super motivated to give everything they got to end this 3rd edition of Tech Bikers.
Last day, arriving at Chateau d'Agassac for a sunny lunch followed by a wine tasting.
To sum up: riders from all levels (newbies to experts), from various nationalities (the UK, Italia, Belgium, Switzerland, Germany, France) but all from our great community came to suffer a first tough day but enjoyed two sunny days.
A part of the daphni team being invaded by some riders at the back 😉